Plateosaurus
Length:25 feet
Hieght:8 feet at the hips
Whieght:2 tons
Life Span: 40-60 years
Feathers: A siginifcant amount

Kingdom:Animalia
Phylum:Chordata Class:Reptilia
Clade:Dinosauria
Order:Saurischia
Suborder:Sauropodomorpha
Family:Plateosauridae
Genus:Plateosaurus
Plateosaurus was around the time of Ceolophysis. Plateosaurus was a huge evolutionary milestone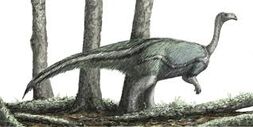 for dinosaurs as it was one of the first prosauropods and the largest at it's time. Eventually  it's decendants evolved into the sauropods that were the largest creatures ever. 
Role in the Ecosystem
At the time and in the area it ws the largest animal in its area. Beause at the time most predators were small it could not be threatened by most predators. It is quite similar in a way to the role sauropods play in their ecosystems.