The shoebill also known as whalehead or shoe-billed stork, is a very large stork-like bird. It derives its name from its massive shoe-shaped bill.
The wings are broad, with a wing chord length of 58.8 to 78 cm (23.1 to 30.7 in)
As in the pelicans, the upper mandible is strongly keeled, ending in a sharp nail. The dark coloured legs are fairly long, with a tarsus length of 21.7 to 25.5 cm (8.5 to 10.0 in). The shoebill's feet are exceptionally large, with the middle toe reaching 16.8 to 18.5 cm (6.6 to 7.3 in) in length, likely assisting the species in its ability to stand on aquatic vegetation while hunting.
The shoebill is a tall bird, with a typical height range of 110 to 140 cm (43 to 55 in) and some specimens reaching as much as 152 cm (60 in). Length from tail to beak can range from 100 to 140 cm (39 to 55 in) and wingspan is 230 to 260 cm (7 ft 7 in to 8 ft 6 in). Weight has reportedly ranged from 4 to 7 kg (8.8 to 15.4 lb).[7][8] A male will weigh on average around 5.6 kg (12 lb) and is larger than a typical female of 4.9 kg (11 lb).
Scientific name: Balaeniceps rex
Higher classification: Balaeniceps
Phylum: Chordata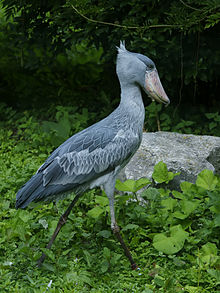 Rank: Species
Order: Pelecaniformes
Did you know: The shoebill usually feeds at night , hunting chiefly by ambush, standing motionless waiting for prey, then attacking with remarkable speed and power.