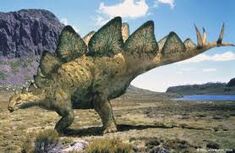 Stegosaurus
Length:20-30 feet long  
Hieght:9 feet at the hips
Whieght:7 tons
Life Span:60 years
Feathers: Few, mostly on the back and tail

Kingdom:Animalia
Phylum:Chordata
Class:Reptilia
Clade:Dinosauria
Order:Ornithsichia
Suborder:Stegosauria
Family:Stegosauridae
Subfamily:Stegosaurinae
Genus:Stegosaurus Stegosaurus was one of the most famous dinosaurs. It is most famous for meter long spikes on its tail called thagomizers. These would be deadly in defensive use. As well as for defense it had plates which it would flush with colour to create an impressive display.
Useage of Plates and tail spikes
The use of the plates and tail spikes is not a large source of debate as most agree on it. The plates were shown in a documentary to be used as an intimidating display as if it was bitten, there would be significant blood loss. The taail spikes were used most certainly as a weapon. The potential with it on its long and muscular tail was extrodinary. Flesh would be ripped and the creature recieving the wound would die quickly.